the business
---
Juggle House Experiences are proud tour hosts, telling stories about the best of regional South Australia. With a foot in the door at the latest happening places in SA, we help create memories that last a lifetime.
No old school bus driver jokes here folks, just fun loving but professional hosts. Our handpicked tour hosts are highly trained and experienced specialists, proud to showcase the area we call home. Whatever you want, we understand and can adapt. We have been reading our customers a long time and we know each group varies in their expectations of the experience. If you want us to be quiet and just drive, we will. If you want us to be a talking head all day answering your in depth questions, we will. We get you. Above all we know, whatever happens on tour, stays on tour.
Owner operator and Master Juggler, Kelly Kuhn (better known as 'Kel') has worked in the South Australian tourism industry for over 20 years, in private enterprise and more government departments than she cares to count. She is the creator of Juggle House Experiences and values the busy life you lead.  Most recently while starting her tour business , Kelly was the Deputy Mayor of her local Council and tour host of Lions 360 Walk of the Brave at the world famous Monarto Zoo.  Now when Kel is not on the road, she is busy juggling commitments for her two beautiful tween daughters, is a Board Member of the Murray River, Lakes and Coorong Tourism Alliance, the Governing Council Vice Chairperson of Mypolonga Primary School and Secretary of the local Progress Association. So, Kel truly lives up to her title as Master Juggler. And she can actually juggle for real - 3 in one hand, 2 in the other! Ask her to show you on tour, and have a go yourself.
Kelly's incredibly diverse background has seen her go from growing up on a wheat and sheep farm, to travelling the world for work through her state government marketing roles.  From spending months in Mexico learning the tourism industry, to discovering stories on the back roads of Norfolk Island.  Her public relations roles see her work closely with media and celebrities from around the nation, and all of these experiences roll into one incredibly knowledgeable and enthusiastic human!  Kel holds an Advanced Diploma of Business in Tourism, and has inroads with oodles of fellow tourism businesses in regional South Australia to help get the best out of your adventure.
Her beaming smile and radiating personality is so infectious, you won't want to go home.
Qualifications:
Advanced Diploma Business Tourism
Drivers Licence Class - HR
Driver Accreditation Class - Small Passenger & Large Passenger
Responsible Service of Alcohol
RAN Child Protection
Senior First Aid.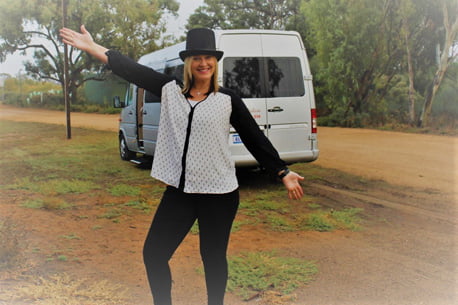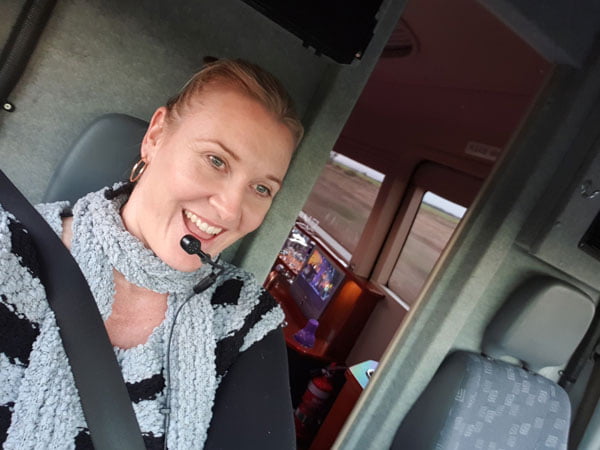 Kelly worked on the road tour hosting for storytellers Mardi LeBrun and her father David for 5 years before Juggle House Experiences was born.  Continuing the partnership, together they specialise in houseboating or river holiday rental groups from interstate and New Zealand, who add to their itinerary lingering Barossa wine tours, Outback pub tours, or trips to Monarto Zoo and the Adelaide Hills.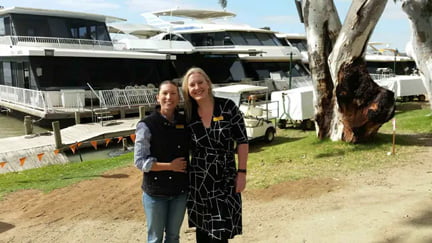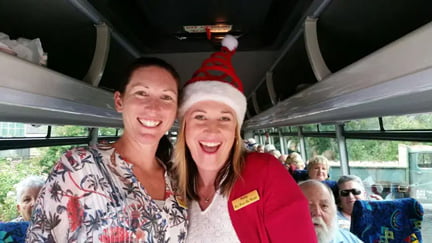 Mardi LeBrun is a master whip cracker (for real), a gifted auctioneer and a crackerjack juggler raising two young children, also growing up in the tourism world.  Mardi has been hosting tours in regional South Australia for 15 years and is the perfect fountain of knowledge to join the Juggle House Experiences tours.  After living on the River a majority of her life (with a stint in the beautiful Barossa) it's obvious the Murray is in Mardi's blood.  Running her own tourism business with her father David, Big Bend by Night was announced SA Tourism Champions and also featured on ABC Back Roads.  Their business offers an insight into Australian wildlife and a range of exciting experiences for people to add value to their holidays along the river.  Mardi loves having a job that allows her to show travellers around her backyard and share her passion for the river and the wildlife.  It's embedded in her heart and she says, "I don't want to be anywhere else." Mardi even takes in rescued animals to hand raise them so tourists get a closer look at what beautiful creatures also call the river home.  The perfect storyteller in a perfect setting.
Qualifications:
Drivers Licence Class - MR
Driver Accrediation - Small Passenger & Large Passenger
Responsible Service of Alcohol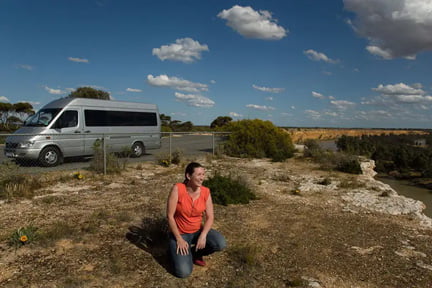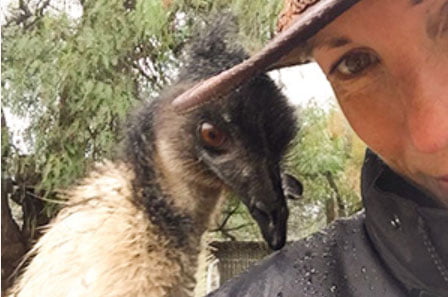 You know when the back up guy is actually better than the person he's substituting. Well, this is Kelly's husband, Wayne 'Nugget' Kuhn.  Born and raised in the stunning Barossa.  Sampling the world's best wines.  Working all around Australia in mining, farming, tourism, hospitality and employment services.  Nugget is well versed in his own storytelling.  But he prefers to be the behind the scenes guy, baking morning tea for the tours, maintaining and cleaning the vehicles, getting the wine chilled.  Important stuff.
Plus, he has his own 9-5 real gig, and is super hands on juggling the kids.  And he prefers his Harley and fishing.
So, we'll leave him as back up guy.  For now.
Qualifications:
Certificate 4 Community Services
RAN Child Protection
Responsible Service of Alcohol
Senior First Aid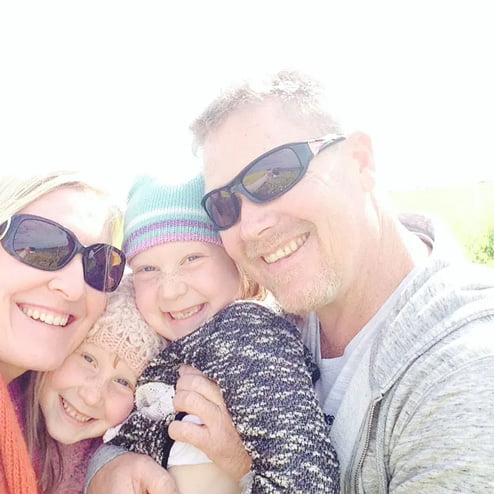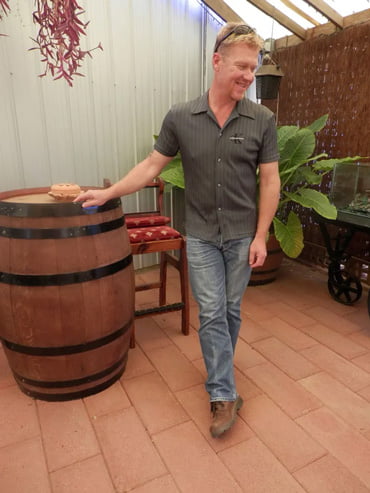 tony hosking
galaxy gazer

Tony Hosking has been the Lead Astronomer for our Dark Sky Tours since their development. When Tony was just 6 months old his father, who also had a keen interest in Astronomy, helped him take his first view through a telescope.  A few years later at four years of age Tony received his very own telescope and has had his head in the stars ever since!
Growing up in the country with no light pollution meant that there were many clear nights to enjoy the magical night sky and all the wonders it beholds. His passion also developed growing up in a Military household and learning old school navigation by the stars! Tony himself served many years in the military and therefore has had the opportunity to stargaze around most of Australia and even other parts of the world.
Over the years Tony has been a member of the Astronomical Society and has appeared on TV and in magazine articles for his expertise. He is also an avid Astrophotographer and Chairman of the Murraylands Photographic Social Club. Tony was involved with the River Murray International Dark Sky Reserve and is three years into his Astrophysics PhD! Tony's Telescope of Choice is the Orion XX12G Fully Computerised Wifi GoTo Dobsonian.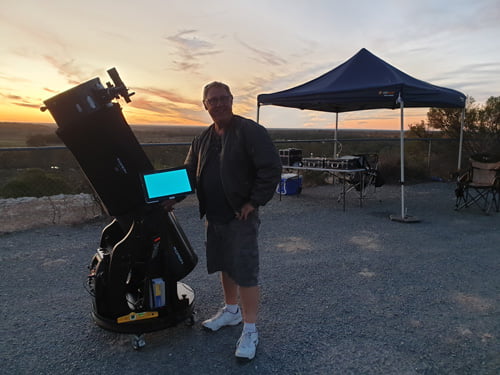 Joe Grida has been observing the deep sky for over 50 years. He is an Honorary Life Member, Hall of Fame inductee, and a Past President (a few times) of the Astronomical Society of South Australia. He currently holds the position of Technical Information Officer.
Joe has made regular appearances on radio and television and is frequently asked to comment on new discoveries. In 2002, he served as a southern sky specialist for visiting U.S. and European astronomers who were in Australia for the total solar eclipse. Joe delivers astronomy themed presentations across Australia and the US. Since 1990, he has written a monthly "Starwatch" column for The Advertiser newspaper in Adelaide.
During 2015, he developed a stargazing experience for passengers on the iconic Ghan train. He trained staff to present stargazing sessions under the inky black Australian Outback skies, 60 kilometres north-west of Coober Pedy.
A deep sky observer from way back, his preferred observing telescope is a 16" F4.5 GoTo Dobsonian Telescope.